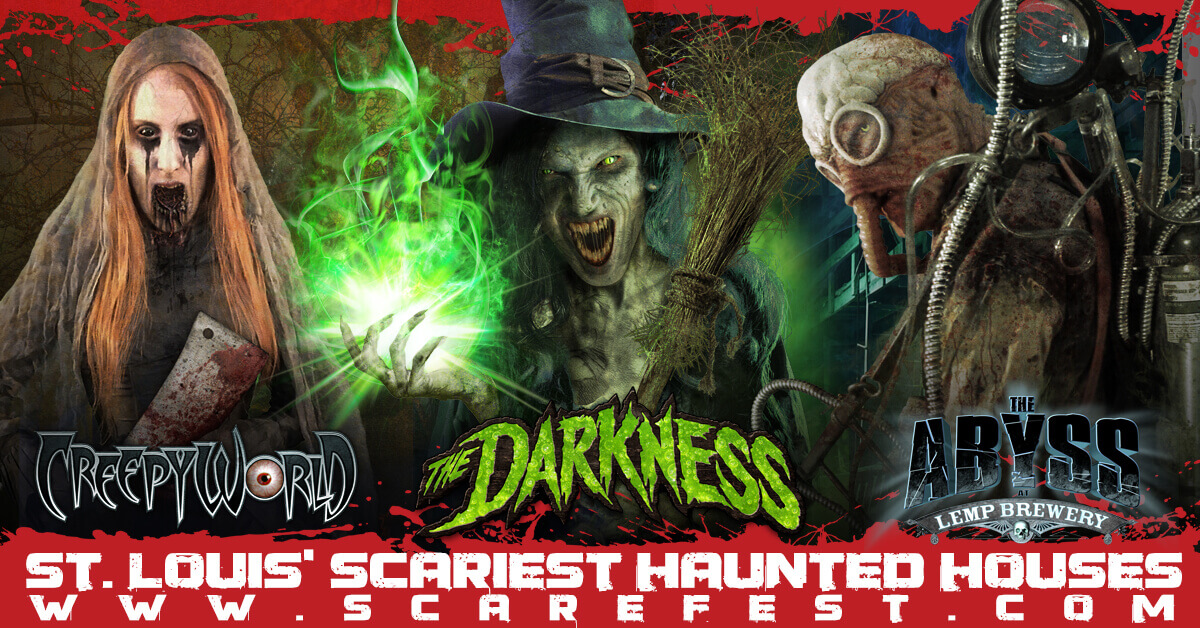 St Louis the biggest and best haunted houses in 2016 include The Darkness, Creepyworld and The Abyss at the Lemp Brewery. Additionally we offer Zombie Laser Tag and Escape rooms. Learn the details about what is new at each of these attractions in 2016. Each year our company spends months designing and creating new scenes, animations, special fx, and SCARES that make our guests SCREAM! So what is new at our three haunted houses in 2015? We have added outdoor scare zones, new screams, zombies, interactive experiences, photo oportunities to even zombie laser tag and escape games. Read a brief what's new at each location for the 2016 Halloween Season our biggest and scariest ever!



The Darkness
The Darkness is the best haunted house in America and has been featured on more national media than any other haunted house in the World. The Darkness gets massive renovations each year in part because of a national haunted house tradeshow that comes to St Louis each March. The Darkness is renovated each year starting in November and completed for a tour at the national haunted house tradeshow each March. Watch a video below of a behind the scenes tour 2015 below.

The Darkness gets more upgrades and the biggest renovation of any haunted house in America. The Darkness is full of new scenes and special FX spread across two floors of horror. The Darkness lower section is based on ancient ruins filled with demons, giant monsters, and this year come face to face with a man eating WORM! Are you afraid of giant worms prepare to end up digested by massive worm monsters. The second floor of The Darkness leads you into an old abandoned haunted mansion. The haunted mansion now features a haunted library filled with evil spirits, undead zombies, and possessed demons. Finally enter the crazed world of clowns in America's Best 3D haunted house Terror Visions 3D. The clowns are waiting for you in 2015 with all new ways to make you scream including clowns that leap out of the ceiling then spring back out of site simply snatching up their victims. The Darkness is ALL NEW and bigger, longer and scarier than ever before. Watch this video below to see what the entire haunted house industry thought about the all new Darkness in Soulard.
ALSO NEW AT DARKNESS 2015: Outside SCREAM ZONE while you wait in line The Darkness has extended the SCREAMS OUTSIDE. Hordes of zombies, monsters and demons roam the outside tormenting you while you wait! Additionally outside we've added a new MEGA SCREAM movie wall showing classic horror movies while you wait. Outside we'll also feature all new PHOTO OPS where you can take photos with monsters and share them on your social media FREE. In our horror musuem we've added a new game FREE where you try and operate on the body of a dead corpse if you fail he will attack you! Make sure you to record your friends playing for something to share on social media. This year at The Darkness will be the scariest EVER! Bring your cameras for tons of photo ops!

OPENING IN APRIL 2016: The Darkness Escape Room Games and Zombie Xtraction Interactive Laser Tag Games. KEEP CHECKING SCAREFEST.com to learn when you can start the HUNT and KILL zombies or when the escape room games will open. Coming APRIL 2016.




CLICK HERE TO READ ABOUT WHAT IS NEW AT THE DARKNESS 2015

Creepyworld Haunted Screampark
Creepyworld is America's biggest and longest haunted attraction with 13 different attractions in one location! Last year we added TWO new haunted attractions including Super Max and a Haunted Hospital and this year we are adding TWO MORE NEW Haunted Houses. Creepyworld will now be the biggest haunted screampark in America with 13 attractions in one location. In 2015 Creepyworld has unearthed The Doll House a creepy haunted mansion poossessed by creepy dolls who want vengence on the living. The second new haunted attraction in 2015 is a giant old creepy Graveyard filled with zombies escaping their coffins, crypts, and tombs. Will you survive a trip thru the scariest haunted mansion filled with possessed dolls, or a graveyard filled with the undead? In 2015 Creepyworld will be the biggest, longest and scariest haunted house in St Louis. Additionally we've added the biggest HAUNTED MOVIE SCREAM in St Louis showing creepy horror movies while you wait in line. If that wasn't enough our main waiting line will be filled with monsters, zombies and more scaring our guests while they wait plus Creepyworld will feature several photo opportunities where you can take pictures with monsters to share on social media.

CREEPYWORLD will take over ONE HOUR to complete! Creepyworld is the only haunt in the area with over 120 monsters, zombies and the undead ready to make you scream!
NEW HAUNTED HOUSES IN 2014 (Escape from Rikers Island and Haunted Hospital) See videos below. VIDEOS FOR 2015 COMING SOON!





The Abyss at Lemp Brewery


Is all new EXPERIENCE in St Louis an EXTREME haunted house for only the bravest souls. You start with a decent down a spiral staircase into real caves and caverns but once inside the screaming will begin. Under the old Lemp Brewery there is no light and no one can hear you scream! Once you go underground there is nothing that can save you... can you escape? The Abyss is an all new EXTREME concept for St Louis... once you enter the attraction you are on your own to find your way if its even possible. As you try and find your way through the caves and caverns under the brewery subterranean creatures lurk around each corner ready to rip your soul from your body. ONLY THE BRAVEST SOULS SHOULD ENTER THE ALL NEW EXTREME SCREAM ABYSS HAUNTED HOUSE at Lemp Brewery.




LAST YEAR EVERYONE AGREED ABYSS WAS THE SCARIEST EXPERIENCE IN ST LOUIS SO HOW CAN WE TOP WHAT WE DID IN 2014? IN 2015 AS YOU PLUNGE INTO COMPLETE DARKNESS MORE ZOMBIES AND THE UNDEAD WILL PLUNGE OUT AT YOU WHERE YOU LEAST EXPECT IT. WE HAVE TRIPLED THE SCARE IN 2015 AT THE LEMP. OUR ONLY CONCERN IS TOO MANY PEOPLE WILL CHICKEN OUT HALF WAY THROUGH. DO NOT ATTEMPT TO VISIT THIS ATTRACTION IF YOU CAN'T TAKE EXTREME SCARES

!



ALSO NEW COMING IN 2016 GHOST TOURS INSIDE THE LEMP BREWERY!