What is New America's Biggest and Scariest Haunted Screampark Creepyworld

America's longest and scariest haunted Screampark is Creepyworld in St Louis Missouri with 13 different haunted attractions in one location. New in 2017 Creepyworld will feature TWO NEW attractions including Trick R Treat Haunted Hayride and Quarantine World War Zombie.



The all-new Creepyworld takes over one hour to complete which includes a haunted hayride, several haunted houses, mazes, 3D haunts, haunted cornfields, graveyards and zombie themed attractions.
Creepyworld is America's Longest Haunted Screampark!


Creepyworld will feature TWO all new attractions in 2017. Finally the team behind some of the most amazing attractions built around the World has created an all-new Haunted Hayride at Creepyworld. Trick R Treat Haunted Hayride puts guests into the deadliest neighborhood in town where every single house could kill you! Come face to face with some of the deadliest homes in America! This Halloween will be your last! Additionally Creepyworld has added a second all-new attractions called: Quarantine World War Zombie. Scientists have developed a secret weapon which turned the entire base into a mutant zombie filled war zone. Will you survive zombies around every turn? Creepyworld now features 13 different and unique attractions for 2017. Creepyworld takes over one hour to complete making it the longest haunted attraction in America.





Creepyworld also features a total of 13 Different Haunted Attractions including
a haunted mansion, hospital, corn maze, 3D haunt and much more.

WATCH THE COMPLETE 2017 PROMOTIONAL VIDEO OF CREEPYWORLD


2016 Complete Walk Thru of Creepyworld America's Longest Haunted House Video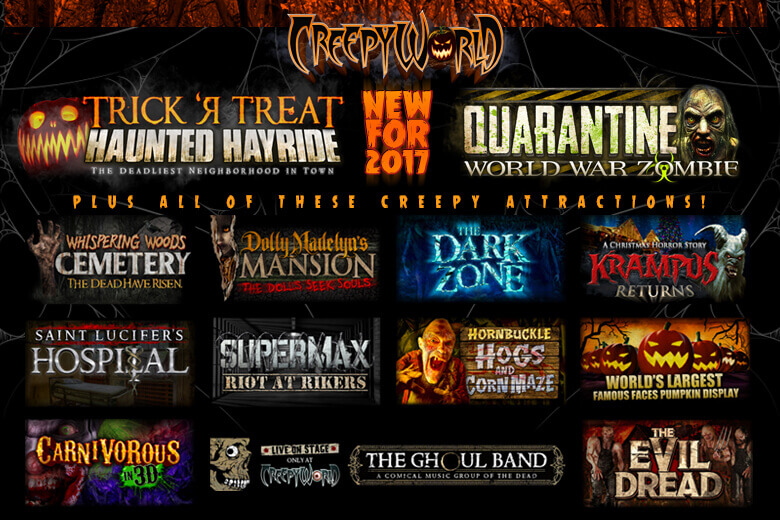 ;j