Zombie Laser Tag Silo X St Louis Missouri

SILO-X HAUNTED HOUSE AND ZOMBIE LASER TAG GAME

The Darkness offers TWO NEW attractions based on the night you attend first up is SIlo-X Haunted House.
Every weekend and Halloween night Silo-X Haunted House is America's best zombie themed attraction.
To be clear EVERY Friday and Saturday plus Halloween this attraction is a zombie themed haunted house, cost is $5.00 per person.

Every Sunday thru Thursday we use the same attraction to play Zombie Laser Tag
with an extra cost of $20.00 per person.

The Darkness is $25.00 cost to do both The Darkness and Silo-X Zombie Haunted house is $30.00.

Get tickets to Darkness, Silo-X Haunted House or Zombie Laser Tag CLICK HERE




Cost to play Zombie Laser Tag is $20.00 per person. BRING YOUR GO PRO strap them on and video tape your experience. No lights allowed but you can bring a gopro only.







ZOMBIE LASER TAG GAME

HOW TO PLAY Zombie Laser Tag: GUESTS WILL GET WEAPONS THEN ENTER THE CONTAMINATION ZONE WITH ONLY ONE MISSION: HUNT AND KILL ZOMBIES. THIS GAME IS THE PERFECT TEAM BUILDING FUNCTION FOR YOUR BUSINESS. TEAMS WORK TOGETHER TO FIND AND ERADICATE THE THREAT. Real Zombies attack you while you fight them off with your Military style weapons. Zombie laser tag is available every Thursday thru Sunday excluding Halloween only at The Darkness Haunted House downtown.

What is Silo-X Haunted House: Silo-X Haunted House is the Ultimate Zombie haunted house. You are the prey you try your best to survive! Zombie Laser Tag you hunt and kill zombies and during the weekend you try to survive the zombies. Zombies will hunt YOU every Friday and Saturday plus Halloween.


Where: Downtown Next to Soulard Market 1517 South 8th Street St Louis Missouri 63104

Zombie Laser Tag When: Open Every Thursday - Sunday not including Halloween in October.

Silo-X Zombie Haunted House: Every Friday and Saturday plus Halloween.

Open dates for zombie laser tag October 9, 13, 16, 20, 23, 24, 25, 26, 27, and October 30th.

PRIVATE PARTIES: Zombie laser tag can also be rented out for private events any night of the week see our private party page on the website. Additionally Zombie Laser Tag is side by side with our new St Louis Escape Rooms. You can rent Zombie Laser Tag and St Louis Escape Rooms for your company party. Learn more about St Louis Escape at www.StLouisEscape.com





IMPORTANT: Zombie Laser Tag stops allowing people into the attraction 15 minutes prior to closing time. Do not show up late.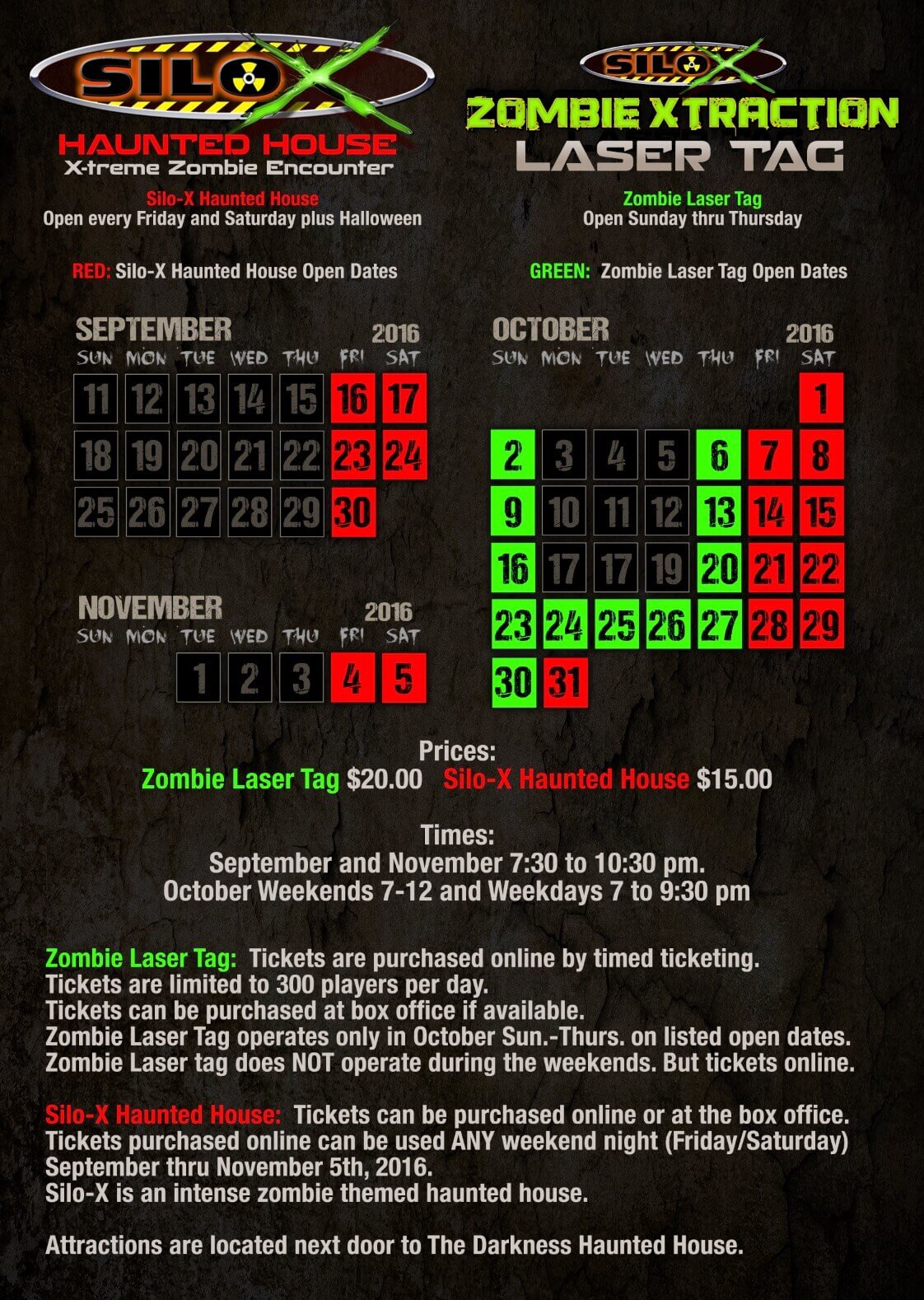 TIMES ARE LIMITED BOOK NOW BEFORE IT SELLS OUT!
DEMO OF ZOMBIE LASER TAG GAME VIDEO