Horror Escape Room - The Darkness Haunted House 2017
Scary Horror themed 3 minute Escape Room brought to you by Jigsaw opening October 27, 2017
CLICK HERE TO LEARN MORE ABOUT THE NEW MOVIE JIGSAW
CLICK HERE
The Darkness features St Louis #1 Rated Escape rooms next door called St Louis Escape. St Louis Escape features four escape rooms including the Cellar, Mummy, Haunted Hotel and Subway. When visiting The Darkness you should book our WORLD CLASS HIGH TECH Escape Rooms. Book the escape rooms at
www.StLouisEscape.com




Then after your adventure is over travel thru The Darkness once you exit The Darkness we have an all new Horror Based Escape Room brought to you by the movie Jigsaw which opens in Theaters nationwide October 27th . You have 3 minutes to escape the room otherwise you will DIE! This escape room IS VERY SCARY and VERY INTENSE! Unlike our escape rooms next door (St Louis Escape) which aren't scary and last 60 minutes, this new 3 minute escape room is scary. Your team must work together to solve puzzles quickly or bad things happen. Someone in your group MUST DIE to save the lives of the rest. Will someone make that sacrifice? 3 Minute Escape is available at the EXIT of The Darkness. Only five players can play at once and someone will die! Will you be a survive? See the movie in theaters October 27th and experience the real life horror inside The Darkness.
The Darkness 3 Minute Escape is located inside our Horror Museum and Gift Store. We warn you it will be intense and scary. Once you enter you'll have three minutes to escape or your life is over. The 3 Minute Escape room will open October 2017 at the exit of The Darkness inside the Monster Museum/Gift Store.
You will be able to book this online or pay as you exit. Cost is $5.00 per player.
Cost to book St Louis Escape next door to The Darkness is $25.00 www.STLOUISESCAPE.com



More details coming soon!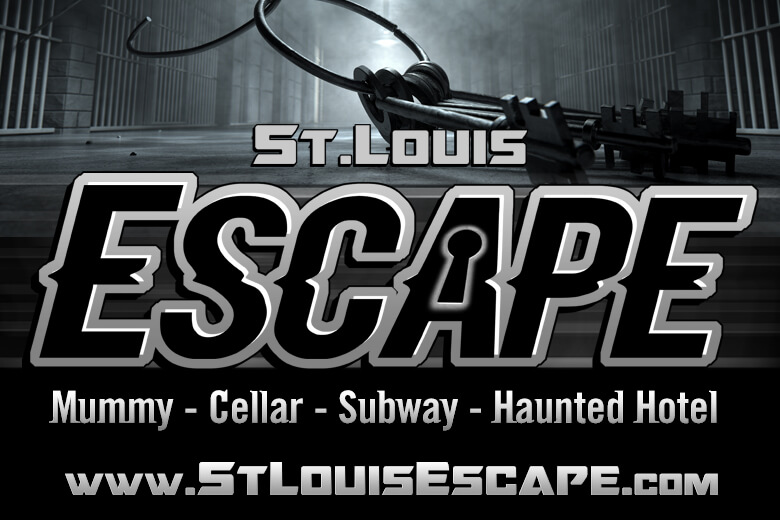 Book our SIXTY MINUTE ESCAPE ROOMS
CLICK HERE