When purchasing tickets online you SAVE A TON of time at the attraction and money.
Our longest lines are buying tickets at the box office so buy online cuts waiting in half.
Online tickets can be used ANY NIGHT during the Halloween season.
You may also consider buying combo tickets to both Creepyworld and Darkness to save.

Buy a Combo Ticket to Darkness and Creepyworld and save!
The Darkness ONLINE ticket includes our secondarly haunted house Zombie Laser Tag or Silo-X. When you buy a ticket online your ticket includes The Darkness, Terror Visions, and Silo-X (Friday thru Wed) or Zombie Laser Tag if you use your ticket on any Thursday in October. Tickets are good any night we're open thru November 11th.

Escape Rooms are located next door to The Darkness and tickets should be reserved at www.StLouisEscape.com
Prices are different online and box office. All ticket sales are final no refunds.



SINGLE HAUNT ONLINE PRICES

Darkness Combo $29.95 - Includes Zombie Laser Tag or Silo-X Haunt (saves $5.05) Add Fast Pass online $6.00 (saves $4.00). Skip the ticketing line saves half the waiting. Add Jigsaw Escape Room $5.00 per person.

The Darkness Single $25.00 - Add either Zombie Laser Tag $10.00 Add Silo-X Zombie Haunt $5.00 Add 3 Minute Escape $5.00 Fast Pass $10.00 Fast Pass Online is only $6.00

Double Combo/Group Tickets
Online Prices Darkness w/Zombie Laser Tag – Zombie Haunt and Creepyworld w/ Haunted Hayride
-
$50.00 (Save $10.00) Add Speed Pass both Darkness/Creepyworld $5.00 (Save $15.00)



Darkness and Creepyworld

Only $45.00
Group Prices:
Must be purchased in advance $20.00 per person for groups of 20 or more to either Darkness or Creepyworld.
Group prices do not include haunted hayride or zombie laser tag/zombie haunt.

Book St Louis Escape Rooms located next door to Darkness book www.stlouisescape.com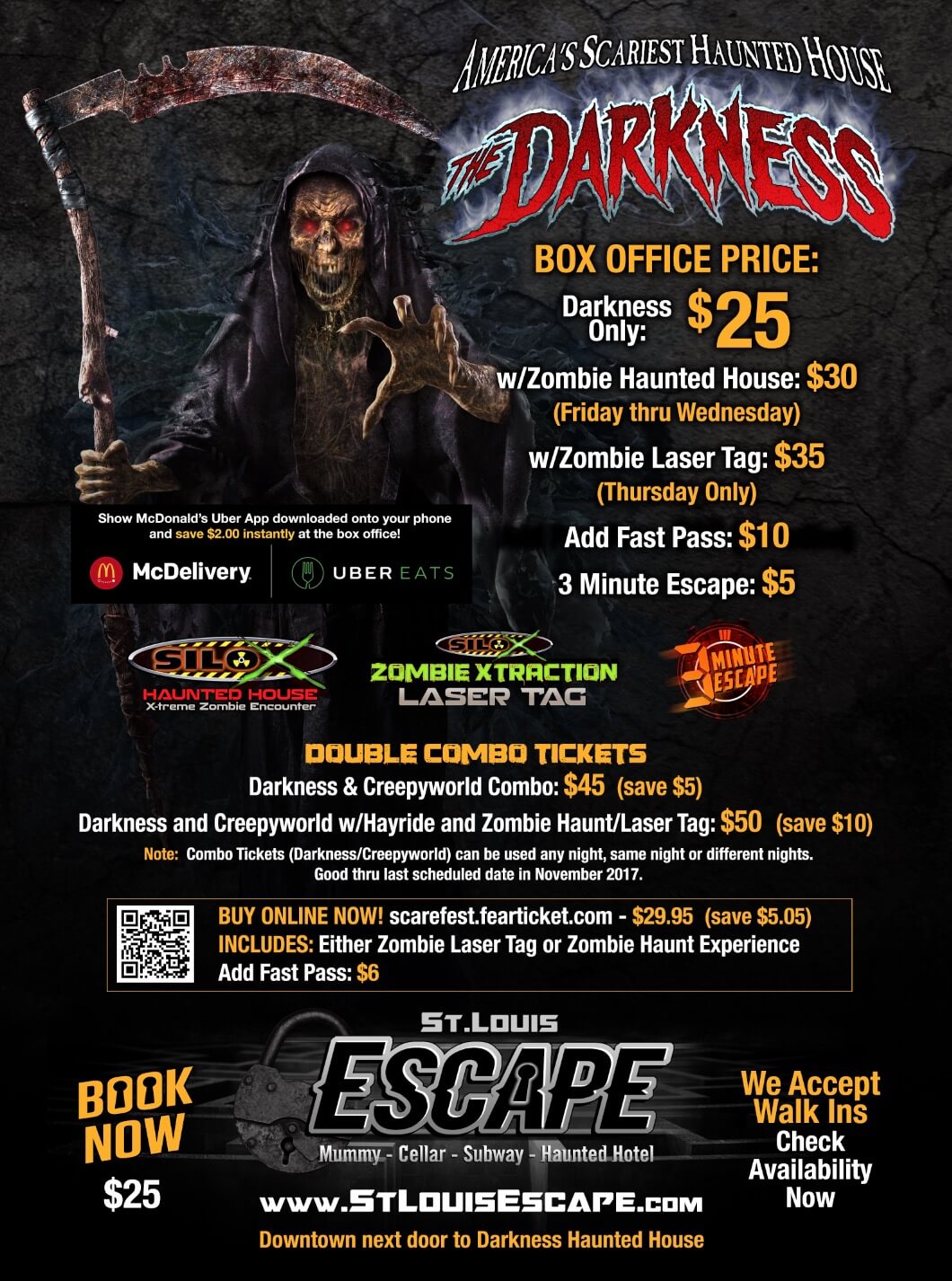 WATCH PEOPLE SCREAM INSIDE THE DARKNESS