Want To Apply For Monster?
Click Here


NOTE: APPLICATION FORM AT BOTTOM OF PAGE ADDITIONALLY TO APPLY FOR THE ESCAPE ROOMS visit www.StlouisEscape.com

We're looking for actors, security, animation techs, make up artists, tractor drivers, anyone with artistic talent including painters, sculptors and more. We are even looking to hire a digital marketing manager. Primary positions are actors at either The Darkness or Creepyworld. Also check the flyer to see ORIENTATION dates. If you have a special talent please email direct at info@scarefest.com


SCROLL TO THE BOTTOM OF THE PAGE TO FILL OUT APPLICATION.
EARN UP TO $65.00 PER NIGHT TO MAKE ST LOUIS SCREAM

The Darkness (Auditions and Ghoul School at 1525 South 8th Street)
Creepyworld at Creepyworld Haunted House 141 one Mile South of Gravois

All Creepyworld auditions are held at Creepyworld

If you want to apply for a job as a animation repair tech, security or to work at our escape rooms come any night.
Auditions Fill out Applications:
Auditions 2017 - Auditions start at 6 pm.
Darkness August 14th, 28, and September 11th

Creepyworld August 17th, 31st, and September 14th

Ghoul and Zombie School (Learn How to Scare) 6 pm to 7 pm

Darkness August 21st and September 4th

Creepyworld August 24th and September 7th
Slider Training - Learn to be a slider Show up at The Darkness 7pm sharp September 13th
Creepy- Sept 19th
Darkness opens Sept 22nd
Creepy opens Sept 22nd
APPLICATION FORM AT BOTTOM OF THE PAGE. PLEASE SHARE THIS PAGE WITH YOUR FRIENDS.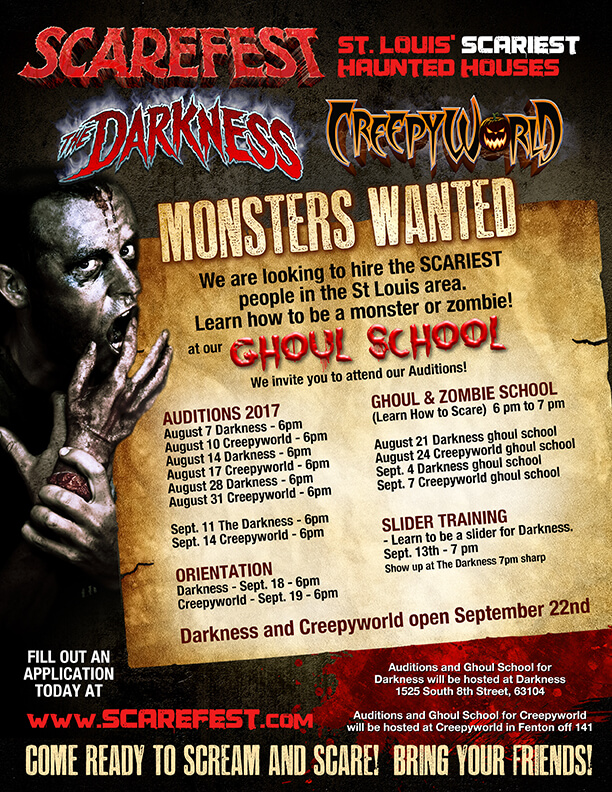 Watch the Video from Last Years Ghoul School
Want To Apply For Monster?
Click Here