Terms of Service
Scarefest.com maintains this site for your personal entertainment, information, education, registration, and shopping convenience.

You are encouraged to use and enjoy the Scarefest.com site. With your use of the Scarefest.com site, you agree to these Terms of Service and Legal Notices set forth below and the disclaimers and terms and conditions stated on the Scarefest.com site ("Terms of Service").

Please note that the policies, guidelines and other conditions of sale, registration, or use at member facilities, member stores, member outlets, partner stores, and co-branded sites may vary.

You may only download material displayed on the Scarefest.com site for non-commercial, personal use provided you also retain all copyright, trademark and other proprietary notices contained in the material, do not modify or alter the material and do not copy or post the material on any network computer or broadcast the material in any media. It is strictly prohibited to modify, transmit, distribute, reuse, repost, "frame" or use the content of the Scarefest.com site including the text, images, audio and/or video for public or commercial purposes without written permission from an authorized representative of Scarefest.com. It is strictly prohibited to download the images of the products for sale within this site.

Tampering with the site, misrepresenting the identity of a user, using buying agents or conducting fraudulent activities on the site are prohibited.

Disclaimers and Limitation of Liability
The Scarefest.com site is provided on an "as is", "as available" basis. Neither Scarefest.com nor its member facilities, affiliates, subsidiaries, or designees nor each of their respective officers, directors, employees, agents, third-party content providers, designers, contractors, distributors, merchants, sponsors, licensors or the like (collectively, "associates") warrant that use of the Scarefest.com site will be uninterrupted or error-free. Neither Scarefest.com nor its associates warrant the accuracy, integrity or completeness of the content provided on the Scarefest.com site or the products or services offered for sale on the Scarefest.com site. Further, Scarefest.com makes no representation that content provided on the Scarefest.com site is applicable or appropriate for use in locations outside of the United States. Scarefest.com specifically disclaims warranties of any kind, either expressed or implied, including but not limited to warranties of title or implied warranties of merchantability or fitness for a particular purpose. No oral advice or written information given by Scarefest.com nor its associates, shall create a warranty. You expressly agree that use of the Scarefest.com site is at your sole risk.

Under no circumstances shall Scarefest.com or its associates be liable for any direct, indirect, incidental, special or consequential damages that result from the use of or inability to use the Scarefest.com site, including but not limited to reliance by a user on any information obtained at the Scarefest.com site, or that result from mistakes, omissions, interruptions, deletion of files or email, errors, defects, viruses, delays in operation or transmission, or any failure of performance, whether or not resulting from acts of God, communications failure, theft, destruction or unauthorized access to Scarefest.com records, programs or services. The foregoing Limitation of Liability shall apply whether in an action of contract, negligence or other tortious action, even if an authorized representative of Scarefest.com has been advised of or should have knowledge of the possibility of such damages. User hereby acknowledges that this paragraph shall apply to all content, merchandise and services available through the Scarefest.com site. Because some states do not allow the exclusion or Limitation of Liability for consequential or incidental damages, in such states liability is limited to the fullest extent permitted by law.

Prices and availability are subject to change without notice. Errors will be corrected where discovered, and Scarefest.com reserves the right to revoke any stated offer and to correct any errors, inaccuracies or omissions (including after an order has been submitted).

While Scarefest.com takes steps to ensure the accuracy and completeness of product and third-party services provided, please refer to the originator of information for details, for example the manufacturer for complete product details.
Proprietary Rights
Content included on or comprising the Scarefest.com site, including information, data, software, photographs, graphs, videos, typefaces, graphics, music, sounds and other material (collectively "Content") are protected by copyrights, trademarks, patent or other proprietary rights, and these rights are valid and protected in all forms, media and technologies existing now or hereinafter developed. All Content is copyrighted as a collective work under the U.S. and international copyright laws, and Scarefest.com owns, to the fullest extent allowed by such laws, the copyright in the selection, coordination, arrangement, and enhancement of such Content. Except as expressly authorized or licensed, you may not copy, modify, remove, delete, augment, add to, publish, transmit, participate in the transfer or sale, lease or rental of, create derivative works from or in any way exploit any of the Content, in whole or in part.

One or more patents are pending that apply to this site.

The Scarefest.com logos and other trademarks on the site are the property of their respective owners and are owned by, licensed to, or, where required, used with permission by Scarefest.com and may not be reproduced, copied, or manipulated in any manner without the express, written approval of the trademark owner.

Scarefest.com does not want to receive confidential, proprietary or trade secret information through the Scarefest.com site (excluding information relating to any order you submit). Please note that any information, materials, suggestions, ideas or comments sent to the Scarefest.com site will be deemed non-confidential, and, by submitting any such information, you are granting Scarefest.com an irrevocable and unrestricted license to use, modify, reproduce, transmit, display and distribute such materials, information, suggestions, ideas or comments for any purpose whatsoever. However, we will not use your name in connection with any such materials, information, suggestions, ideas or comments unless we first obtain your permission or are otherwise required by law to do so.
Applicable Law
The Scarefest.com site is created, operated and controlled by Halloween Productions, Inc. in the State of Missouri, United States of America. As such, the laws of the State of Missouri will govern these Terms of Service without giving effect to any principles or conflicts of laws. We reserve the right to make changes to the Scarefest.com site and these Terms of Service at any time by updating this posting. By using the Scarefet.com site, you agree to be bound by any such revisions and should therefore periodically visit this page to determine the then current Terms of Service to which you are bound.
Links to Third-Party Web Sites
Scarefest.com site contains links to other sites. The links are meant to enable access to publicly available information to those who are allowed to the Scarefest.com site only. Scarefest.com makes no representations whatsoever about any other Web site which you may access through the Scarefest.com site. When you leave the Scarefest.com site, understand that Scarefest.com has no control over the content on that Web site. In addition, a link to a non-Scarefest.com Web site does not imply and does not constitute sponsorship, endorsement, approval or responsibility for the content, or the use of such third-party Web site. Scarefest.com makes no representation or warranty as to any third-party products or services. No rights to use or copy the information on this or the third-party site are granted or implied.

These Terms of Service represent the entire agreement between you and Scarefest.com regarding your relationship with Scarefest.com and supercede any prior statements or representations. By using the Scarefest.com site YOU AGREE TO BE BOUND BY THE TERMS OF SERVICE. If you are dissatisfied with the Scarefest.com site or any content on the Scarefest.com site or with these Terms of Service, your sole and exclusive remedy is to discontinue using the Scarefest.com site.
Indemnification
You agree to indemnify and hold Scarefest.com its member facilities, parents, subsidiaries, affiliates, officers and employees, harmless from any claim, demand, or damage, including reasonable attorneys' fees, asserted by any third party due to or arising out of your use of or conduct on the Scarefest.com
Termination
Scarefest.com or its member facilities may terminate your access to any part or all of the Scarefset.com site and any related service(s) at any time, with or without cause, with or without notice, effective immediately, for any reason whatsoever.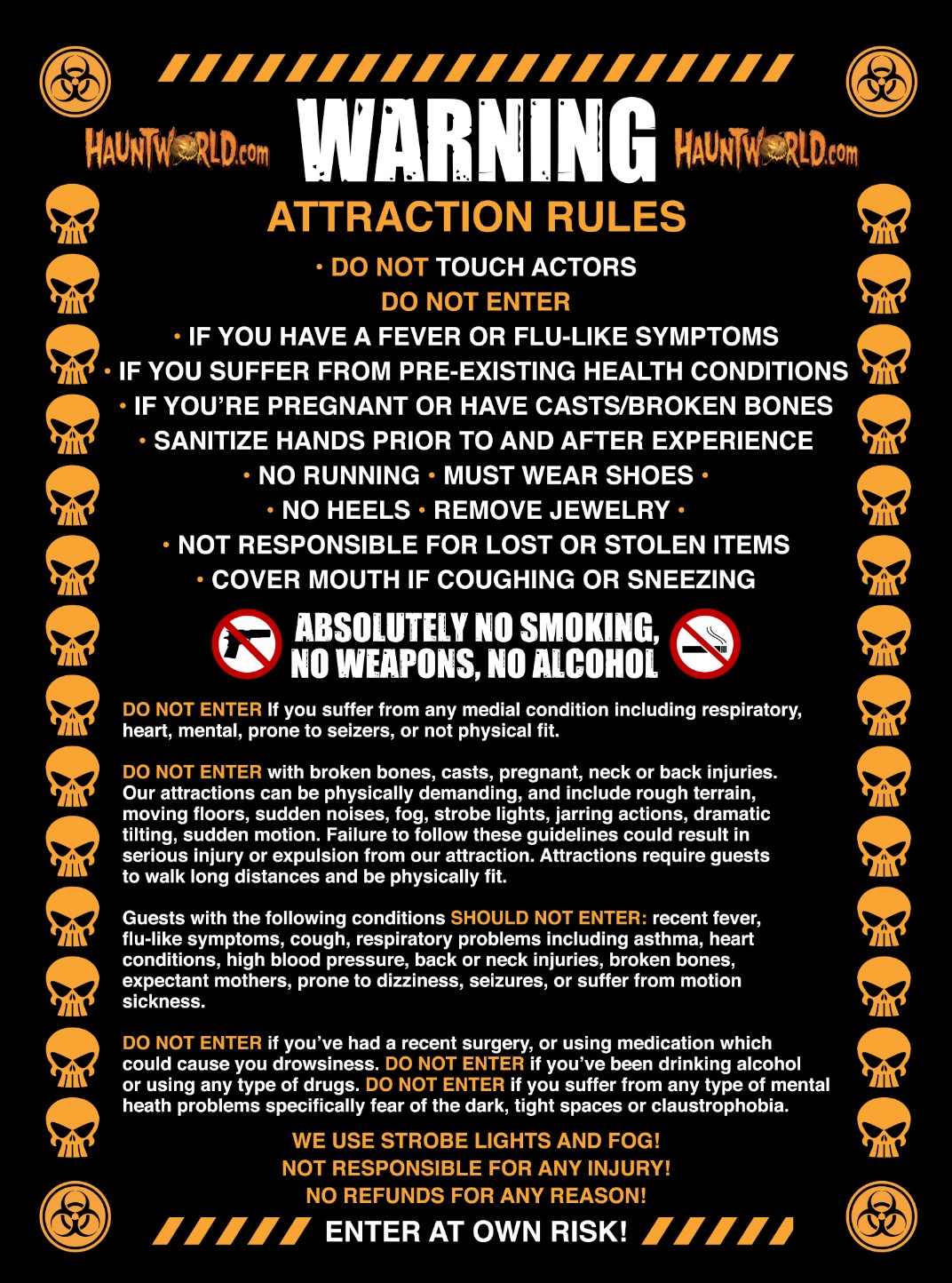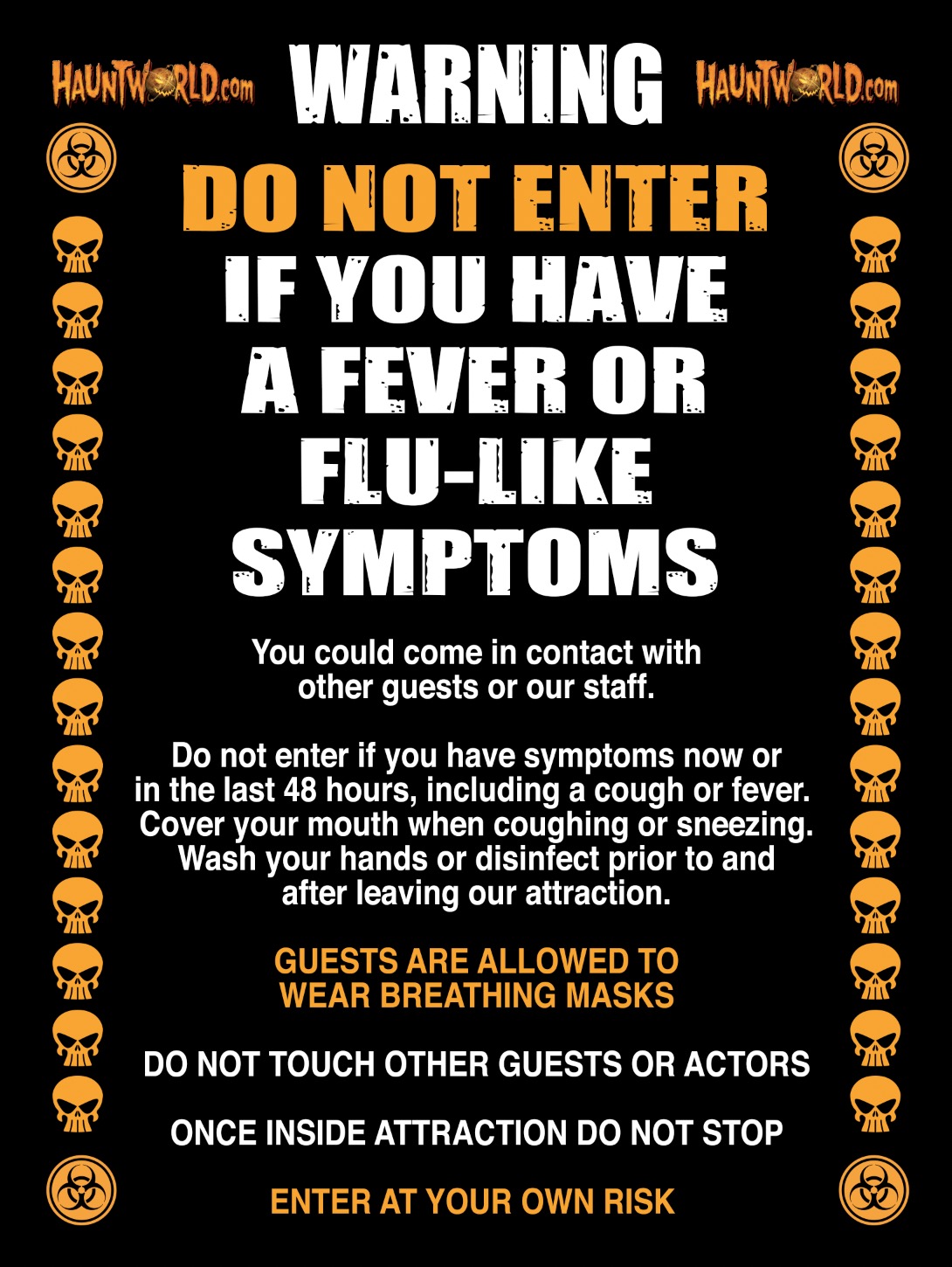 Assumption of the Risk and Waiver of Liability Relating to
Coronavirus/COVID-19

The novel coronavirus, COVID-19, has been declared a worldwide pandemic by World Health Organization. COVID-19 is extremely contagious and is believed to spread mainly from person to person contact. As a result, federal, state, and local governments and federal and state health agencies recommend social distancing and have, in many locations, prohibit congregation of groups of people.

Creepyworld/Darkness has in place preventative measures to reduce the spread of COVID-19; however, our company cannot guarantee that you will not become infected with COVID-19. Further, your employment could increase your risk of contracting COVID-19.
Creepyworld/Darkness has taken enhanced health and safety measures. You must follow all posted instructions, including but not limited to the following:

Cleaning procedures throughout the facility;
Minimum six feet social distancing;
Minimal contact with employees and guests;
Face coverings required at all times;
Temperature screening of our staff members
Immediate reporting if ill or have a temperature.
Washing Stations Have been added to both haunts
Masks available at each attraction
Removal of items in haunts such as squeeze walls etc.
Will sanitize haunts each night.

By entering attractions you're in agreement, and acknowledge the contagious nature of COVID-19 and voluntarily assume the risk that I may be exposed to or infected by COVID-19 by my attendance and that such exposure or infection may result in personal injury, illness, permanent disability, and death. I understand that the risk of becoming exposed to or infected by COVID-19 may result from the actions, omissions, or negligence of myself and others, including, but not limited to, employees, volunteers, and participants and their families.

I voluntarily agree to assume all of the foregoing risks and accept sole responsibility for any injury to myself (including but not limited to, personal injury, disability, and death), illness. damage, loss, claim. liability, or expense, of any kind, that I may experience or incur in connection with my attendance at Creepyworld/Darkness. On my behalf, I hereby release, covenant not to sue, discharge, and hold harmless Creepyworld/Darkness, its employees, agents, and representatives, of and from Claims, including all liabilities, claims, actions, damages, costs or expenses of any kind arising out of or relating thereto. I understand and agree that this release includes any Claims based on the actions, omissions, or negligence of Creepyworld/Darkness its employees, agents, and representatives, whether a COVID-19 infection occurs before, during, or after participation in any program.