The Darkness will open for My Bloody Valentine One Night Only February 13th 7 to 10 pm
THIS IS ONE NIGHT ONLY! THIS EVENT IS LIMITED TO THE FIRST 1,250 tickets.
The Darkness is totally transformed into a Valentines Nightmare
Tickets include Free Photo Op - Admission to The Darkness and Terror Visions 3D - Valentines Candy

The Darkness will feature new scenes - scares and renovations never before seen. Follow us on Instagram to see renovation updates: https://www.instagram.com/scarefest/

THIS EVENT SELLS OUT! Get your tickets now CLICK HERE
The Darkness is also open for Valentines special one night only event as well buy your tickets now!



THE DARKNESS 2021 Haunt Season
September

24-25 7-10 pm

October 1-2 (Friday/Saturay) 8-10 (Friday/Saturday/Sunday) 15-17 (Fri/Sat/Sun) 21-31 (Every night thru Halloween



November

5-6 (Friday - Saturday) 7-10 pm


Friday - Saturday 6:45 to 11:45 pm October
Sunday - Thursday 7 to 9 pm



November

5-6 Friday and Saturday (7-10pm)

Note: Box Office closes at 11:30 pm. You must be in line by 11:30 pm to enter Darkness. We reserve the right to change operation hours based on reaching capacity.
NOTE: THERE ARE NO DROP OFFS DO NOT DROP OFF YOUR KIDS AT THE DARKNESS. YOU MUST WAIT FOR THEM TO FINISH ATTRACTION.


St Louis Escape and Silly Putter are open daily visit www.StLouisEscape.com for exact details.
Box Office Closes at 11:30 pm and you must be in line prior to 11:30 to get entry. We reserve the right to close early if over capacity.

See Images Below for each Haunt





Book Private Parties CLICK HERE for details.


Special Events

Krampus Christmas ONE NIGHT ONLY December 12th, 2020 - 7 to 10 pm



Tickets include a trip thru the Christmas Horror Version of The Darkness - Free Photo Ops - Christmas Candy - Discounts on All Merch

Cost: $25.00 Per Person - 5 Minute Coffin Escape

Book St Louis Escape Next Door - Do both in the same night www.StLouisEscape.com



Bloody Valentines Date Nights
This is a ONE NIGHT ONLY EVENT and it has SOLD OUT 3 years straight. The cool aspect of this event is we renovated the Darkness each year starting in November.
You will experience a NEW version of The Darkness by February 13th, 2021. Tickets include FREE PHOTO OP - Valentines Candy - Trip thru The Darkness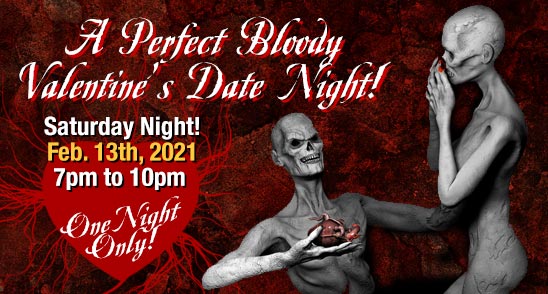 Book St Louis Escape and Silly Putter which is located next door to The Darkness

ST LOUIS ESCAPE Open nightly book now www.stlouisescape.com