CLICK HERE TO BUY NOW AND SAVE


The Darkness will open forScream Break March 27th ONE NIGHT ONLY 7 to 10 pm
THIS IS ONE NIGHT ONLY! THIS EVENT IS LIMITED TO THE FIRST 800 tickets.
THIS EVENT SELLS OUT! Get your tickets now CLICK HERE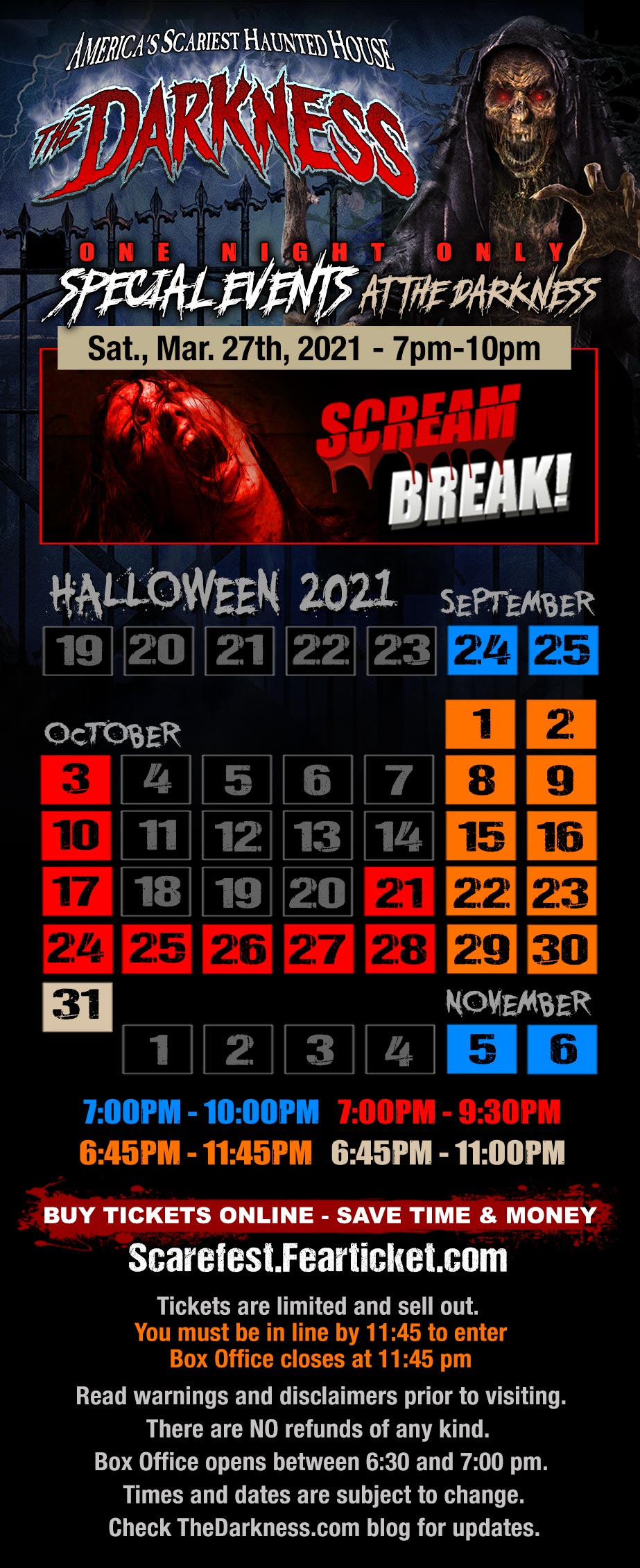 When purchasing tickets online you SAVE A TON of time at the attraction and money.
Our longest lines are buying tickets at the box office so buy online cuts waiting in half.
Online tickets can be used ANY NIGHT during the Halloween season.
You may also consider buying combo tickets to both Creepyworld and Darkness to save.
Buy a Combo Ticket to Darkness and Creepyworld and save!
Escape Rooms and Silly Putter are located next door to The Darkness and tickets should be reserved at www.StLouisEscape.com

Prices are different online and box office. All ticket sales are final no refunds.

SINGLE HAUNT ONLINE PRICES

Creepyworld $25.00 - Add 5 Minute Vampire Escape $5.00 - Speed Pass $10.00 online $15.00 at door Haunted Hayride $5.00 - Immediate Access Ticket $40.00 online or $50 at door but includes Haunted Hayride.

The Darkness $25.00 - Add 5 Minute Coffin Escape $5.00 - Speed Pass $10.00 online $15.00 at door Silly Putter Mini Golf (Located next door behind St Louis Escape) $14.95 Immediate Access Ticket $40.00 online $50 at box office but includes 5 Minute Escape

NOTE: Immediate Access ticket means you show up we put you right in the door! No waiting at all!


Double Combo Darkness and Creepyworld/Group Tickets

Double Combo: Darkness and Creepyworld with Haunted Hayride $50.00 (Save $5.00)
Ultimate Scream Pass
Includes The Darkness - Creepyworld - Haunted Hayride (at creepyworld)
plus Speed Passes (at darkness) $60 (Save $15.00)
Group Prices:
Must be purchased in advance $20.00 per person for groups of 20 or more to either
Darkness / Creepyworld. Group prices do not include haunted hayride or speed passes.



Corporate Parties The Darkness: $42.95

- You must purchase at least 20 tickets. You have a private party from 5-7 pm. You get free unlimited arcade games, pinball, 5 minute escape room, electric chair and photo ops. You can bring food and drinks. Once the clock strikes 7pm your group will be escorted straight to the front of the line into The Darkness. Only one private party available per day! Reserve now.